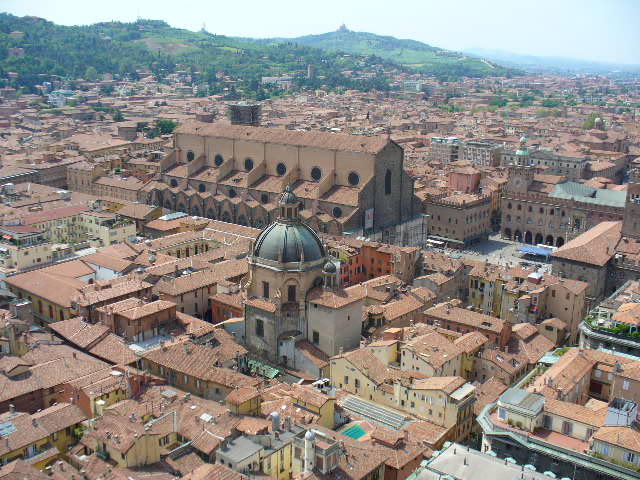 Finally made it to Bologna this weekend. For some reason I'd ignored it before because it didn't really seem like anything special. I found it pleasantly surprising though. Though certainly not as famous as other Italian cities such as Rome, Milan or Florence, Bologna has quite a bit to offer the wayward traveler, not the least of which are the culinary delights which have made the city famous, at least in Italy. In Italy, the city is so famous for it's good food that the Italians have honored it with a nickname "Bologna, la Grassa", which means simply "Bologna the Fat". And indeed, I probably saw more fat Italians in Bologna than anywhere else I've traveled to in Italy.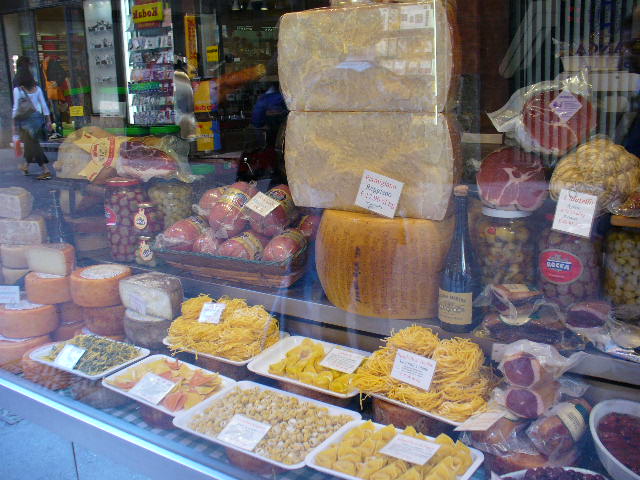 You can see why it's called Bologna "La Grassa" - "The Fat"
Most of the popular Italian dishes you are familiar with originated in Bologna; tortellini, Spaghetti, Lasagna, mortadella, etc. I'm a huge tortellini fan so I was desperate to try it in Bologna. I certainly wasn't disappointed. For dinner I had fresh tortellini prepared in balsamic vinegar. Balsamic vinegar is also the specialty of the Emilia-Romagna region of which Bologna is the capital, so the meal was just unbelievable. In fact, I ordered tomato and mozzarella with balsamic vinegar as an appetizer. The local wine is Lambrusco, drunk more for its ability to cut through the fat content of the food than its taste. Though not a Lambrusco fan, I figured "when in Rome" (or in this case, Bologna) and ordered a glass. Upon the first sip, I thought "this tastes more like a Tuscan wine." Sure enough, the waiter had accidently poured a Sangiovese Red (Good catch Rik, you're really learning your wines...). It didn't matter though, everything was just spectacular.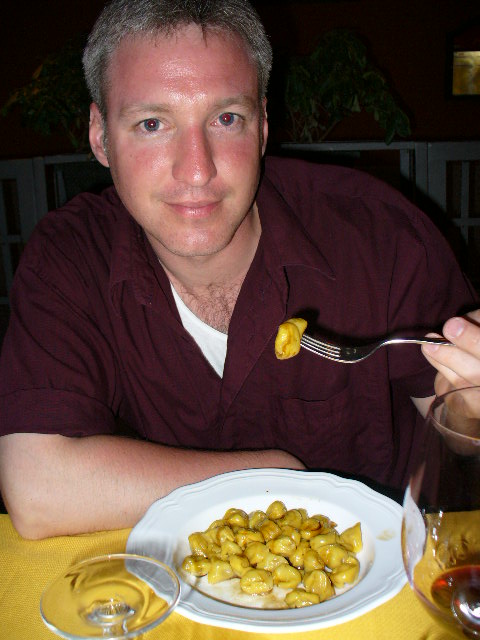 Enjoying a plate of tortellini al balsamico
My Italian friend Adele who lives nearby, met me in the city and told me she wanted to take me to the best gelateria in Bologna. It's called Gelateria Gianni, and after my first visit, I declared that it was the best gelato I'd ever had anywhere in Italy. And I've had a lot of gelato. It was so good that we went back after dinner for another one. By far the creamiest, smoothest, tastiest gelato I've ever had. And a multitude of flavors for any taste. If you go to Bologna, go to Gelateria Gianni. Accept no substitutes.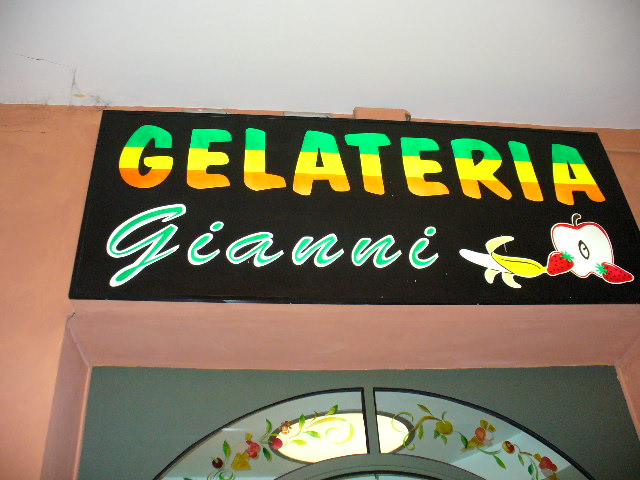 Gelateria Gianni - Best gelato I've ever had
The one thing left to sample were the pubs, and Bologna did well in this area as well. For those who don't know, Bologna's university is the oldest in all of Europe. Being a big university city means that there will invariably be a decent nightlife scene. We found 3 good pubs right in a row in one of the streets right off the main piazza. A couple of them even served a range of Tenants brews, not easy to find in this part of Europe. We met a British guy there named Bob - what is it with me and British people in Pubs?! I must have met half the Empire by now - who ended up hanging out with us the rest of the night, downing pints and watching football/calcio/soccer.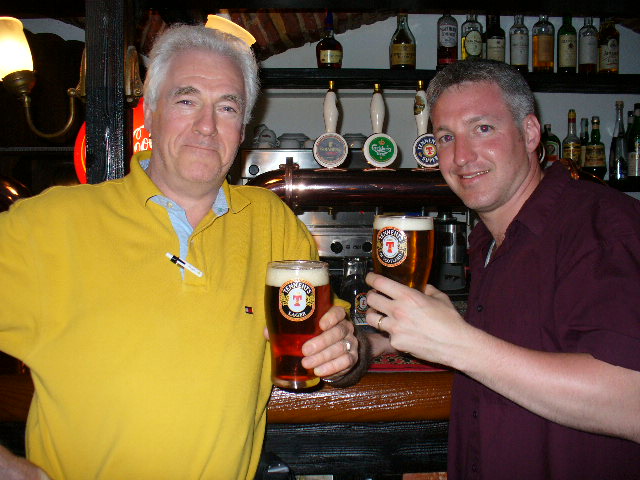 Bob, Me, and a couple pints of Tenants
There is plenty to see and do in Bologna for anyone. If you have a chance, I'd recommend at least a full day, including dinner in the city. Look for a ristorante that has "pasta fresco", fresh pasta. That means they make it right there. Adele's friends and cousins who go to the university in Bologna all recommended a place called Trattoria Gianni (This Gianni guy's got much game apparently), but we had no reservation (a sign that it must be good), so we settled on a place called Tinello's, which is just to the left of the "Due Touri" (Two Towers, you can't miss them). Hard to imagine getting a better meal than the on we had though.
Since Bologna is only two hours away by train, I can foresee Virginia and I going there again just to have some more of the best food in all of Italy. And that's saying a lot.
Rik