So the other night, we went to Venice to meet up with my friend Steve Lester from back home. He was in Europe to attend Oktoberfest with some friends from work and they made a 2 day detour south of the Alps to see Venice. The wife took her friend Christina, who is also visiting, to Venice in the morning via the train and I met everyone there after work. I hadn't seen Steve in a couple years, so it was really good to see him again.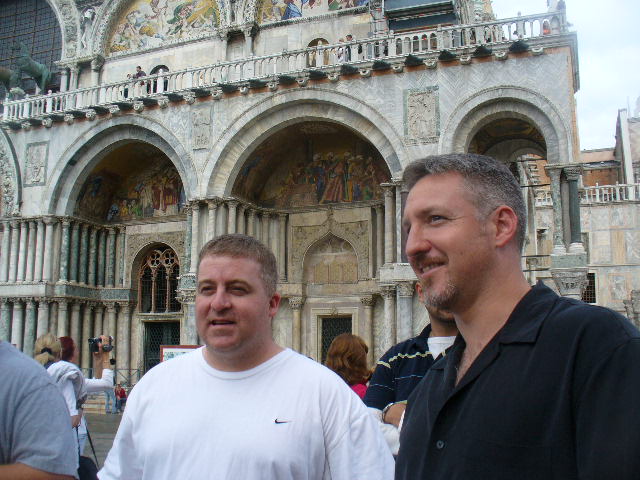 Steve and I at the Piazza San Marco (click photo to see full size)
I showed everyone around Venice for a little while, then Virginia and Christina left to go do some shopping while I took the guys to the Devil's Forest Pub for a couple pints. After that, I brought them to my new favorite little wine bar to sample a few wines before dinner. For dinner, we followed the recommendation of a good friend named Theresa who lives in Venice and tried the Alle Madonna, near the Rialto Bridge. The food was really good, the waiters were friendly and full of personality, and best of all, the prices were actually cheap for Venice. Everybody was able to sample a variety of good Italian food, from meat and pasta to seafood and vegetables. I established an excellent rapport with the waiter with my broken Italian and must have done a good job because he actually gave us a few dishes on the house. We even splurged for a bottle of Brunello di Montalcino, which I had the waiter decant and let breathe for about 45 minutes. It was the smoothest and tastiest wine I've ever had. After dinner, Steve surprises me by saying the guys got a little gift as a thank you for showing them around - then pulls out a bottle of 1997 Brunello di Montalcino. My eyes actually got misty at the sight of such a prized wine. Here's a picture from dinner (click on photo to see full size):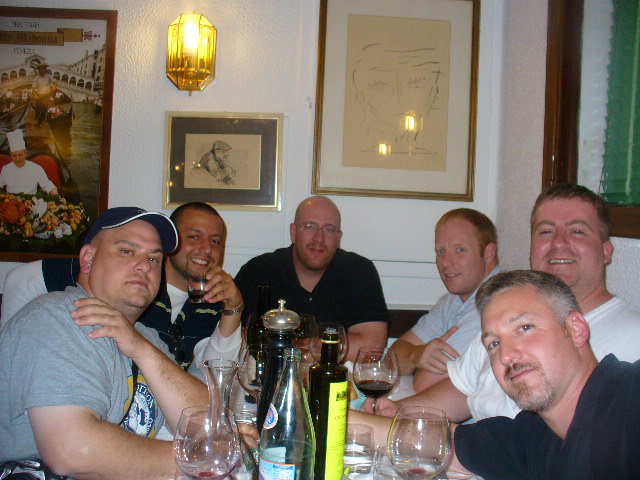 From L-R: Mike, Patrick, Dan, Scott, Steve, Me
During dinner, Steve kept asking the wife if I could stay and hang out with them in Venice the rest of the night. Eventually the asking turned to begging and we decided that the wife and Christina would take the train home and I would be free to show the guys some of Venice's nightlife. We started at the Fiddler's Elbow where we ran into some girls that the guys had met that morning in the laundromat. There were two Canadians, Natalie and Michelle and two Swedish girls, Andrea and Lovissa. We just sat and chatted with them over pints of Kilkenny Cream Ale for a couple hours, at one point even breaking into some Canadian/Irish folk songs, then the pub was closing so we went to my old reliable - The Bacaro Jazz. They know me in there by now and everyone smiled when I walked through the door. It was awesome. They also informed me that Mary was in the hospital sick (hope you're feeling better Mary!), so we weren't able to visit with her but we did have some cold Hoegaarden straight off the tap and some late night snacks (I had the linguine with pesto). Finally they informed us that they were closing so we got up to leave, but they would not let me leave without giving us all a free round or two of shots. I was even surprised to hear one of the waiters calling me by my name - I felt like Norm on "Cheers".
Anyway, we walked back to the hotel through the totally empty Venice streets, enjoyed one last beer in the lobby (from a vending machine no less), then headed for bed. I hadn't planned on staying overnight so I had no other clothes or anything. Just got up, threw on the clothes I wore there, slapped some deodorant, and headed to work on a couple hours sleep.
Sometimes I wonder if I'm getting too old for this.
Naaaah.