If you've been following my blog for a while, then you know that I've been suffering through a fit of nostalgia over the past few months. I'm not sure what started it, but once the doors were opened, the memories have come flooding out with no end in sight.
To that end, I was in the library yesterday afternoon and I noticed the movie "Where the Boys Are '84". I grabbed it immediately and took it home. I actually saw this movie in the theaters with my sister when it came out back in 1984. It's not that great a movie - it's about four female friends going down to Ft Lauderdale for spring break and the ensuing hijinx that occur while they're there. The only famous person in it that you'd probably recognize is a young, nubile Lisa Hartman. While nowhere near as funny as many of its '80's counterparts, it does bring back many fond memories since the last time I saw it was when it first came out.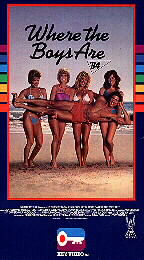 So there I was sitting on my couch watching the movie and for those 90 minutes, I was totally transported back to 1984. I was 13 years old again, flossing in Griffin Memorial junior high with my parachute pants, trying to get Kelly Burke to notice me, having spitball fights with Dave Broussard and John Noseworthy. Getting kicked off the GMS basketball team because of my poor grades. Enjoying my last moments of being a big fish in a little pond before I would have to go to Alvirne High and be the little fish again. Hanging out with Joel Miller, trying my first cigarette and getting drunk for the first time.
1984. What a great year.
Rik