As you may know (Unless you're American), last night was the final of the Champions League, which crowns the best football (soccer) club in Europe. Our very own AC Milan was up against FC Liverpool.
As they often do, my upstairs neighbors, Giampietro and Agnese had me up for dinner before the match. I stopped at the pescheria (seafood store) and picked three beautiful tuna steaks which Agnese prepared with rosemarino and some other spice I can't remember the name of. It was delicious. For the wine, we had a Tocai Rosso, which Giampi said would be a good accompaniment to the fish (it was). After dinner, Giampi brought the TV out to the balcony so we could watch the match in the warm Italian air and the ubiquitous cheese made its appearance. I had brought a tasty Gruyer back from Switzerland, and Agnese provided some Asiago and Grana Padano, two of my favorites.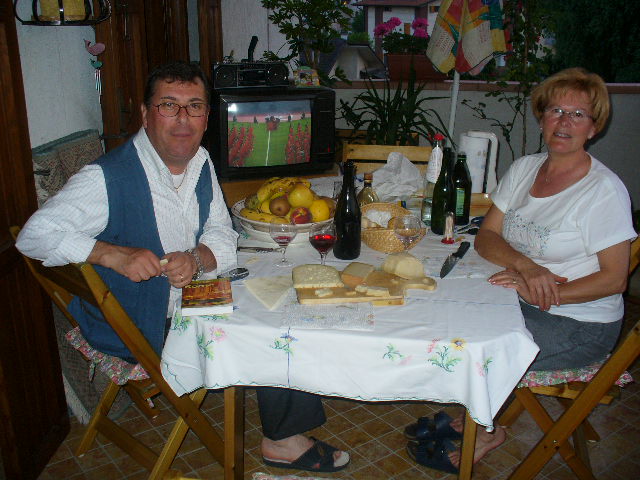 Giampietro, Agnese, some vino buono, and some damn good cheese
The match got under way and Milan scored in the first minute. By halftime they were up an astounding 3-0 and I announced that the rout was on. I could not have been more wrong.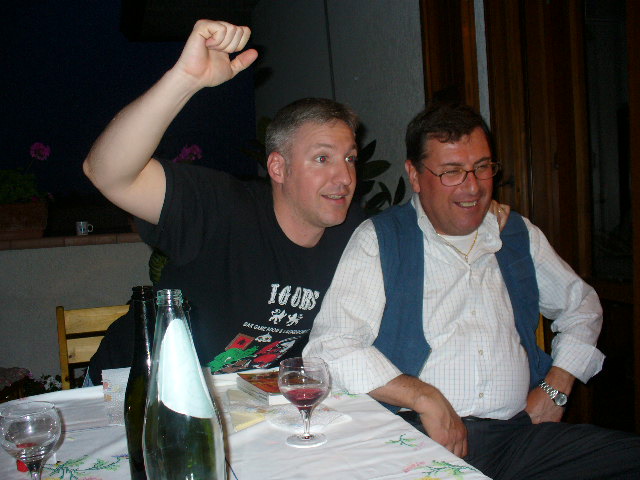 In happier times - Milan couldn't possibly blow a 3-0 lead!
Liverpool scored 3 goals in a 6 minute span early in the second half and the match finished at 3-3 after regulation. Two 15 minutes overtime periods brought no goals for either team so it went to the dreaded penalty kicks.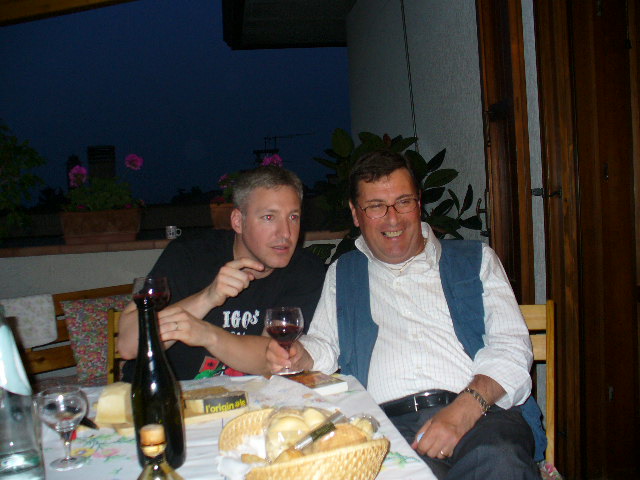 Liverpool equalized...we're getting nervous
Milan ended up losing miserably. It was unfathomable. A 3-0 lead in football is supposed to be nearly insurmountable - especially when it's a team with as much talent as Milan. We are all devastated this morning and my throat is hoarse from screaming at the TV last night. It is indeed a Black Thursday.
So where does
Billy Squier
fit into all this you ask? Well, this morning I happened to discover a tape case with many of my old cassette tapes from years ago. I hadn't listened to them in years and so this morning while driving to work, I glanced over and saw Billy Squier classic "Don't Say No". I immediately popped it in, turned the 8 speaker monsoon sound system in Old Triple 7 up loud, and proceeded to rock out like it was 1983 to classics like "My Kinda Lover", "In the Dark", and of course the once-taboo "The Stroke" ("STROKE ME, STROKE ME!"). I would have been playing my air guitar for sure had I not been driving.
It's still a sad day in Northern Italy, but at least I can always count on Billy Squier to provide a glimmer of light.

Thanks Billy.
Rik