Well, my third foray into the forbidden paradise of Amsterdam didn't go too badly. When I left Venice on Friday afternoon, it was about 70 degrees and sunny. When I landed at Schipol Airport, it was cold, damp and rainy. This would be the theme for the entire weekend.
Friday evening I hooked up with Bill and Cee and we wasted no time in finding a good Irish Pub near the Leidseplein. Round about midnight Bill and Cee had to catch a bus back to their hotel so I went back to the hotel and crashed. Got up early the next morning, had breakfast, and went to the Museumplein to meet up with Bill and Cee again. Then it started pouring. So I'm hanging out under an awning and what do I notice? A huge Anti-US/Bush rally. Right away I'm thinking, "well, maybe this isn't a good place for an American to be hanging out…". As I'm standing there typing out a text message to Bill and Cee, I meet the second freak of the weekend (the first was a weird drunk homeless guy from the night before who tried to scare me on my way back to the hotel then started laughing uncontrollably). It's not Amsterdam unless you run into at least a couple freaks while you're there. This guy was dressed sort of like a student, complete with a tweed jacket. He had a shaved head and was missing a tooth. He was going around passing out some kind of literature which I can only presume was his personal manifesto on the evils of industrial society or some other radical cause. He tried to give me a flyer and I shook my head no. But he persisted. So I shook my head harder and continued typing. Then he gets upset and tries talking to me in Dutch, all the while trying to force the flyer on me. I finally said "I don't speak Dutch". He got a bit exasperated and turned to walk away. But as he was leaving, he was looking back at me and said something to effect of "I'm speaking KNOWLEDGE!". It was hard to make out with his accent. He then proceeded to walk around the area trying to pass out his literature to every single person that walked by. Freak.
So Saturday was pretty much a wash (literally). We just walked around taking in the sights, ducking into the odd pub for an occasional pint. At one point, Cee wanted to shop, so Bill and I found a great pub to kill time in while she did her thing. I don't remember the name, but hey had some fantastic brews on tap. They even had Bruges Tripel, which is an exquisite beer that is hard to find outside of Belgium.
Bill and Cee used to manage a pub in Britain so I received quite an education from Bill about beer. For a beer enthusiast such as myself, it was very enjoyable. We were meeting everybody at 5, so I made my way back to the hotel to change as Bill went to track down Cee among the many shops.
So 5 o'clock rolls around and by about 6 the whole crew was there. There were 9 of us in all. We pretty much just hung out drinking and chatting for a couple of hours at a bar in Leidesplein until it was time to make our way to the Bangkok Restaurant where we had reservations at 8. The Thai food was great. Of course, if you know me, you know that I'm a curry freak, so it's hard to get bad Thai as far as I'm concerned. I've always said that if I could, I'd have curry intravenously fed into my veins all day. And I could not wait to have some fries and mayonnaise.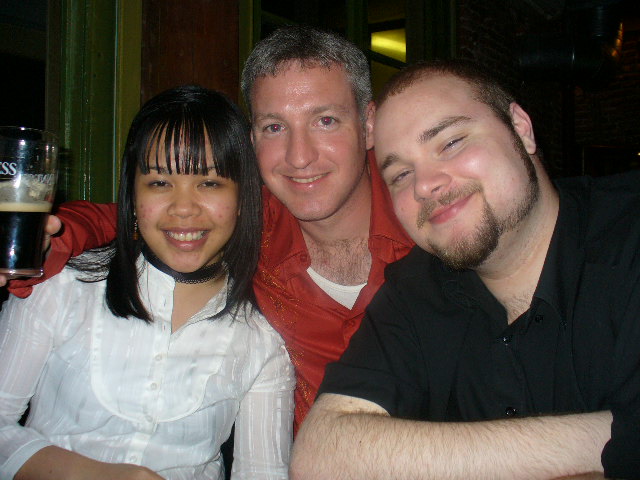 Gracie, me & Mike
After dinner, we hit a really good bar/music pub on the Rembrandtplein called The Three Sisters. We downed many pints and listened to some good music. Eventually some of the group got a little bored, which meant one thing: Time to hit the Red Light District. As it was my third time in Amsterdam, I figured the RLD wasn't anything that would interest me (especially with Virginia gone for two months – half naked women were the last thing I needed to see…), but the RLD in Amsterdam never fails to disappoint. It really is basically a tourist attraction nowadays. Hell, you often see tour groups full of elderly people walking through. Although there were no big spectacles such as the epic brawl that Patrick Johns and I witnessed on my last trip there that went on for a half an hour and dragged all over the RLD, there were still plenty of laughs to be had. And the good news is that I managed not to fall into any canals. The one thing I noticed is that the drug scene seems to be more prevalent now than the last two times I was there. The first time I went, I probably had only a few people trying to sell me stuff. This time there was a different guy literally every 5 feet asking if I wanted anything from cocaine to heroin to crack to X. At one point, we went in to explore the various offerings of the one of the many sex shops that the area had to offer. Those places are not for the faint of heart. Everything from inflatable sheep to…well, let's just not go there (not that there's anything wrong with that).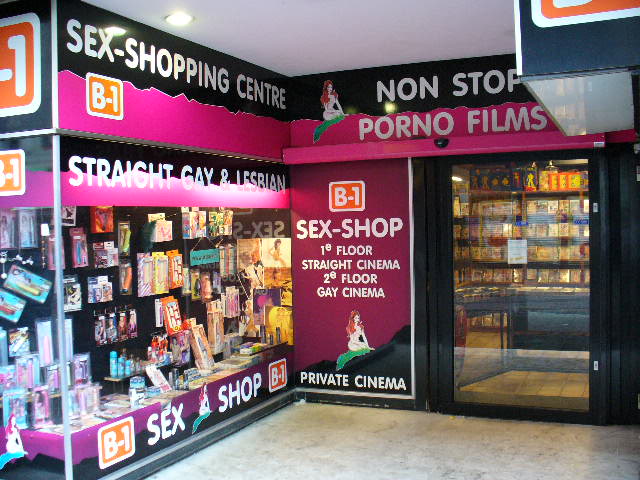 One of the many sex shops in Amsterdam
We hit a couple bars and had some more drinks until one by one, each of the couples had to leave for the station to catch their respective trains. Eventually it got down to just myself, Jori and the Dutchman (names are being withheld to protect the innocent). We hung out in a bar where the female bartenders were literally all dancing on the bar, a scene straight out of Coyote Ugly, and some weird Dutch guy next to me kept asking if I wanted to go with him to another bar where the girls were actually naked.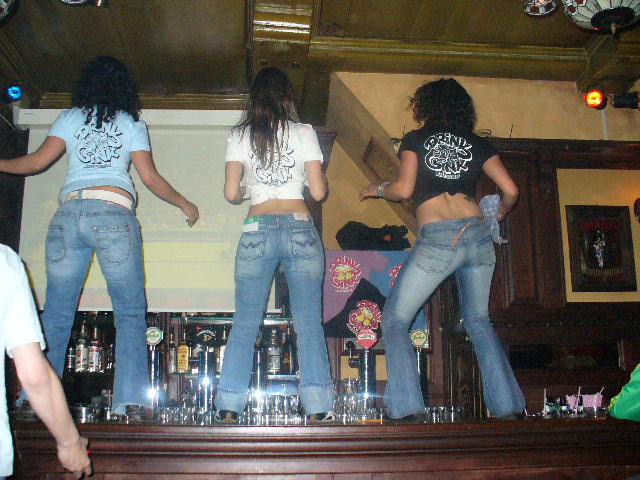 Coyote Ugly? Nope, the Amsterdam Red Light District
However, by about 3 am, they too had to catch a train home. Alas, I was the last man standing. But I would not go gentle into that dark night. No, I would rage…rage …RAGE. Or at least have a few more drinks. A few of the bars were still open so I ducked into one and had a few more pops. Let me tell you, the Amsterdam Red Light District at 4 AM is a surreal place (Picture the Cantina scene in the original "Star Wars"). I figured I'd had enough so I headed back to the hotel, which was down near the Museumplein so I had a small hike ahead of me. I had no map but thought I could get there by heading in the right general direction and looking for signs to the Museumplein. I was wrong. I was walking for a while in what I thought was the right direction but ended up in the middle of nowhere. Eventually I broke down and flagged down a taxi. I almost fell asleep several times; the only thing that kept me awake was my fear of being violated and dumped in a canal by a taxi driver who probably hated Americans. Around 6 AM I finally crawled into bed.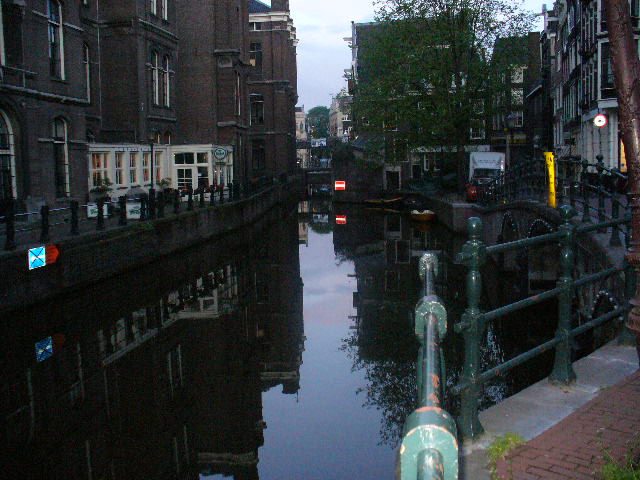 This is what Amsterdam looks like at 5:30 in the morning. Trust me.
Checkout was at 11 so I woke at 10, took a quick shower, checked out of the hotel, and took a cab directly to the airport. I wasn't really hungover but I was unbelievably exhausted. Everything seemed to be moving in slow motion. Perhaps that Dutch freak at the last bar slipped a mickey into my drink, who knows. It was Amsterdam after all.
As I got on the plane, a terrifying thought occurred to me; I had totally forgotten to have some fries and mayonnaise. The whole weekend was a failure.
Rik
(If you'd like to see more pictures, Jori has quite a few posted:
Jori's Blog
)