Since we're on a Venice kick lately, let's explore the Gondola phenomenon. Someone made a comment about the gondolas being expensive and as I was answering her comment, I realized I had much to say, so I decided to write an entry about it for those who may be going to Venice and considering riding a gondola.
Let me start off by saying that the gondola rides in Venice can be described in two words: RIP OFF. On my website I have a page entitled "The Best and Worst of Europe", in which I give my choices for the best and/or worst that Europe has to offer in various categories. My pick for "Worst Tourist Attraction" is a gondola ride in Venice.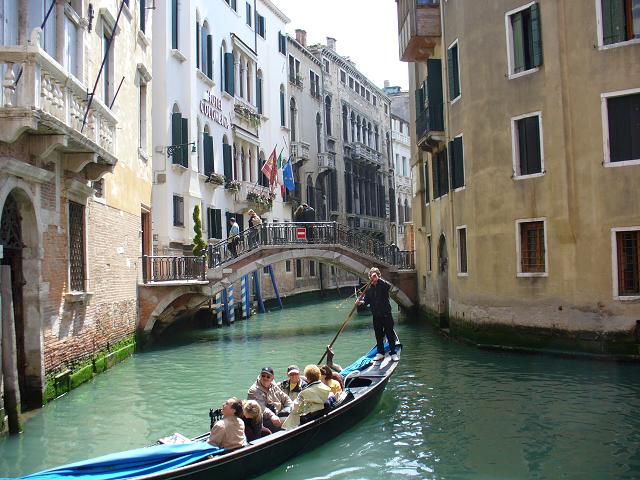 Gondolas - avoid them if you can help it
People ask me all the time about the gondolas. "Is it worth it?" they ask. Here's my standard reply: "Have you ever ridden in a canoe? Would you pay 120 bucks to ride in a canoe for a half and hour?" If the answer is no, then don't ride a gondola. The current rate for a gondola ride is a whopping 80 Euros. Unfortunately, many people get scammed into paying as much as 100 Euros or more for a ride. I just can't fathom paying that much.
I rode a gondola on my first foray into Venice back in September of 2000. At the time, it cost us 120,000 lire, which was about 60 bucks. There were 4 of us so we split the cost and each paid 15 bucks. The guy said the ride would last an hour. We hopped in and rode down a small canal, into the Grand Canal, then back. The entire ride took 40 minutes. I got out of the gondola thinking "I paid 15 bucks for
that
?!" So can you imagine how much more disgusted I'd have been if I'd paid over 100 bucks? The gondoliers are the richest guys in all of Venice. Many of them make up to 300,000 Euros or more and don't even work the whole year.
Of course, I realize it's Venice and if you go, you just HAVE to ride a gondola, if only for the photo op. And so, I don't fault anyone for doing it. And fortunately, many people do ride them, which has provided me with many good photo ops over the years of gondolas making their way through the canals. But if you can resist the temptation, don't do it. Venice is extremely expensive and that 80-100 Euros could be much better spent.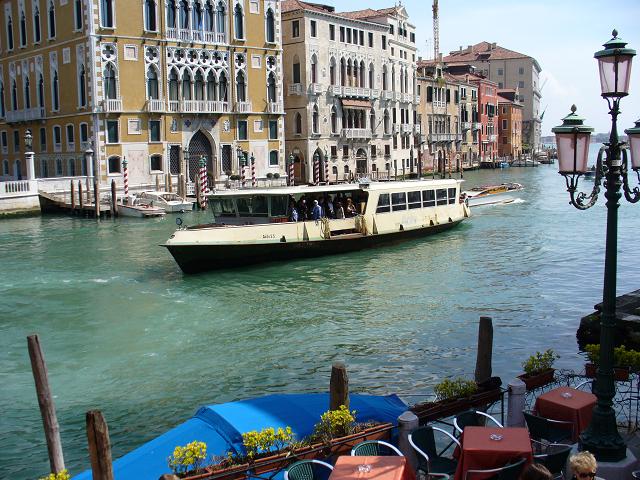 A Vaperetto - Venice's best and cheapest form of public transportation
If you just want the experience of riding the water in Venice, buy a ticket to the vaporetto, which is like a water bus. 5 euros will get you a ticket that'll take you all the way down the Grand Canal. Or ride a traghetto, which is a public gondola that crosses the Grand Canal in a handful of places. That way you can have the experience of riding in a gondola, although it's a shorter ride and there'll be other people in the gondola with you. The price? 40 cents.
Rik