So I'm planning on going to Venice tomorrow for a good old fashioned pub crawl. I've done pub crawls in cities all over the world, but Venice is by far my favorite. In most places, the pub crawl is about, well, the pubs. But not Venice. No, in Venice, it's about so much more. Venice at night is whole different city. Gone are the crowds of obnoxious tourists and hundreds of souvenir stands selling kitschy garbage. It's peaceful, quiet,
tranquil
even - Venice as the average tourist never sees it. If you've been to Venice but never walked around there at night, you really missed something special. My favorite time of the day in Venice is the night, into the early morning.
Venice is not a "party" city per se. Nobody ever says "Hey, we're going to Venice to party and go crazy!"...well, I do sometimes, but that's a different story...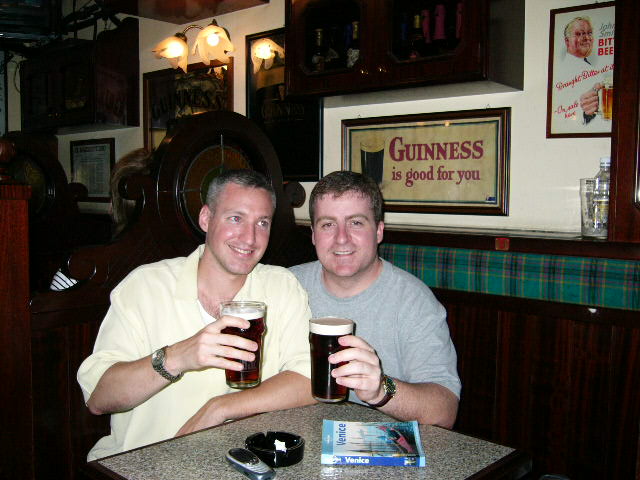 Steve Lester and I at the Devil's Forest Pub
While lacking in overall nightlife, Venice does have three excellent Irish Pubs. The first is the Devil's Forest Pub. Located just off the main tourist route, this one is fun, but a little small. There are times when we can't even get in to get a pint because there's just no room. At one time, this was my favorite because in addition to Guinness, they have Kilkenny Cream Ale on tap. I'm not a big Kilkenny fan, but their Cream Ale is excellent.
The second option is probably my favorite - The Fiddler's Elbow. They have Guinness and Kilkenny Cream Ale as well but it's closer to the train station, right on the tourist route. I like it because it's a lot bigger than the Devil's Forest and they have an additional feature that the DF does not - outdoor seating. They also have a huge flat screen TV and severa lsmaller ones, so it's a great place to go watch football (soccer) and rugby.
The other pub in Venice is called the Inishark (great name!). It's a little further off the beaten path, but it has a certain old world charm about it. This is usually where we end up at the end of the night for one or two last pints.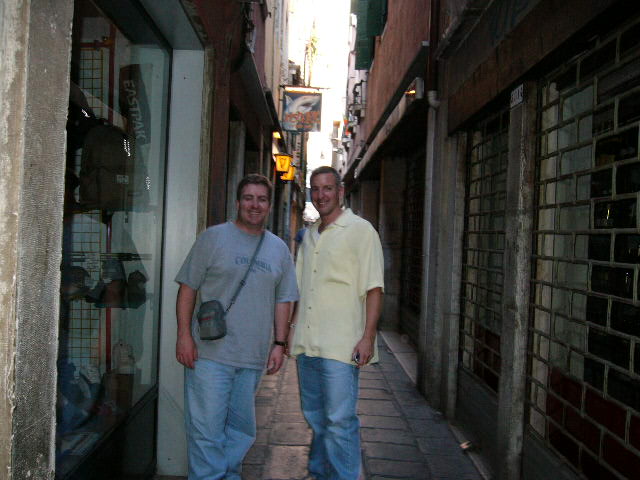 Steve and I outside the Inishark
One of my favorite things in the world is to start out in one pub, meet some wayward travelers, and end up pub hopping with them the rest of the night. And if it's their first time in Venice, I make sure to hit a few sights betwen pubs so they can see Venice as they probably never would.
I'll be sure to post the details on Monday. So let the "Venice Pub Crawl April '05" begin...
Rik