Turned out to be a pretty good weekend. We got a sitter for the X Man on Saturday and spent the day in Venice with our friends Jeremy and Linh: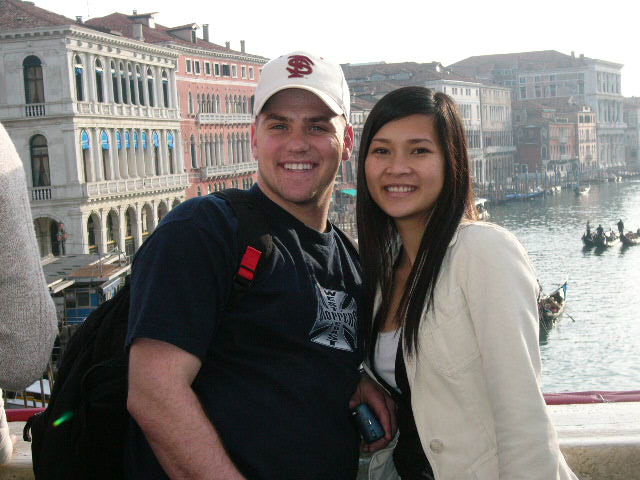 Jeremy and his lovely wife Linh
Jeremy and Linh are both from Sacramento, California (Linh was born in Viet Nam but grew up in Sacramento). Initially we were planning to go to Venice to have dinner at
Shri Ganesh
which is a really good Indian restaurant, but Jeremy and Linh had never been to Venice, so we ended up going in the afternoon so we could show them around a bit before dinner. Since we had limited time, I just concentrated on some of the main sights such as the
Piazza San Marco
and the
Bridge of Sighs
. We also stopped for the requisite pint at the Fiddler's Elbow on the way. We planned on another pint at the Devil's Forest, but the Rugby Seven Nations tournament was going on, so there was no room. Probably a good thing that I had forgotten about the tournament, as I probably would have spent the day at the pub watching the matches!
We met up with our friends Denise and Theresa, as we always do when we're in Venice, for a drink (ok, three...). Hadn't seen Theresa in a while, so it was good to catch up a bit. After walking around for a bit, we finally made it to the restaurant for dinner, and it was fan-tas-tic. Anyone who knows me knows how much I love Thai, Indian, or anything else with curry in it. If I could, I would have curry intravenously fed into my veins all day long. So you can imagine how good dinner was. I opted for the yogurt-curry chicken. For an appetizer I had the Kena Naam, which is one of the tastiest things I've ever had. And of course, whenever I eat ethnic food I always drink the national beer that accompanies it, so I had a few Kingfishers. Kingfisher is a crisp, slightly bitter pale colored lager; by itself, it's nothing special, but it goes well with Indian food.
Sunday was pretty much a wash. We met our friends
Mark and Jane
at the pasticceria for coffee and pastries, then went to the base to do the grocery shopping. I picked up a bottle of Bordeaux
(sacrelidge!)
on the way home and sipped it while I watched a few more episodes of season 5 of the Sopranos (a friend from the US taped them and lent me the tapes. So far, it rocks!). In the afternoon we took the X Man for a walk to the sports bar for a glass (ok two) of cabernet franc and a panini for Virginia. Virginia made her version of Pad Thai for dinner last night, complete with chicken, shrimp, egg, and curry. Perfect ending to a good weekend.