This edition of TT takes us to the Far East. I discovered Hong Kong back in 2001, I've been there 3 times and I can say without a doubt that it is my favorite city in the world (although everytime I go to Venice I reconsider!).
Its official name is Hong Kong SAR (Special administrative Region) and it is owned of course by China. To their credit, China have not meddled in its capitalist affairs too much since reclaiming it from the UK back on June 30, 1997 (my birthday!).
To enjoy Hong Kong, you have to like big cities. I compare it to an Asian Manhattan. There are skyscrapers galore, the streets are packed, it's always crowded, and you can get pretty much anything you want there. However, there is another side to HK that most people don't know about. Contrary to popular belief, Hong Kong is not a city, it's a region. What most people know of as Hong Kong is actually 2 main parts separated by a thin channel of water: Kowloon peninsula and Hong Kong island. The area with all the skyscrapers is called the Central District, and is the business district which means it's the most expensive. Kowloon and HK island are connected by a few underwater tunnels used for both private (cars) and public (Metro) transportation. But Hong Kong also extends far north to the China border. The area between the city proper and the China border is called NT - New Territories. The New Territories are basically cookie-cutter type cities hastily built to relieve the overcrowding in the city. In addition, Hong Kong features several islands, big and small, which offer a welcome respite from the day to day grind of the city. One of my favorite activities there is to take a ferry to one of the mountainous islands and do some hiking. The scenery is gorgeous. Here's a picture: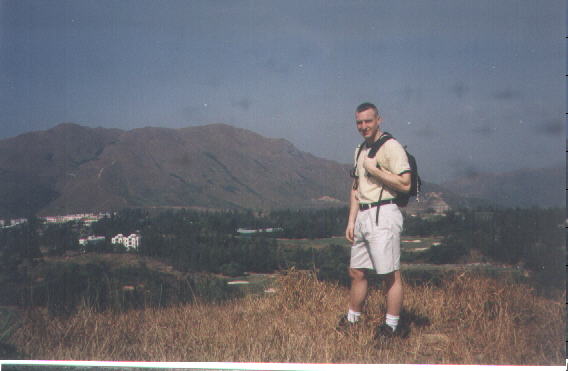 Not the typical scene of Hong Kong to be sure.
One good thing about traveling to Hong Kong for me is that because of the British influence, English speakers have an easier time there. Many locals speak English; however, with each trip, I've noticed that many seem to be less and less willing to. It's almost as if the locals want to be more associated with the Chinese culture rather than the British. I can understand this nationalistic attitude, but I sincerely hope the colonial influence isn't lost altogether eventually. It adds a certain charm to the city. Of course as long as there's tourism, things will be fine. I also like Hong Kong because it's extremely easy to get anywhere fast. The Metro is very efficient, one of the best I've used.
If I had to recommend one place to see in Hong Kong, it'd have to be Victoria's Peak. Although you may not know the name, you're definitely familiar with the view from here. It's one of the most famous in the world: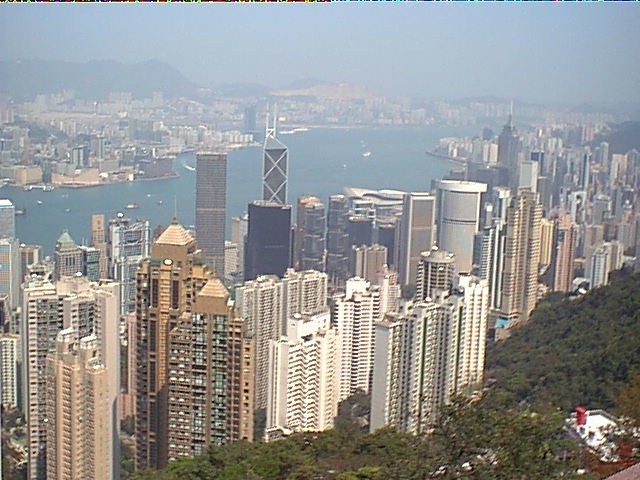 From the top of Victoria's Peak, you can see pretty much all of Hong Kong Island, all of Kowloon, and up into the New Territories. Definitely the highlight of Hong Kong. There's a funicular tram kind of thing that you can ride right up to the top, so it's very convenient.
Although millions of people do it every week, another of my favorite things to do there is to take the Star Ferry across the harbor. The Star Ferry has been running for over 100 years and offers one of the best views of the city. It's also the cheapest way to cross the harbor, costing less than 50 cents for a one way trip.
The two best areas for nightlife are the Wanchai and the Lan Kwai Fong districts. Wanchai is a sort of a tame red light district and is a lot of fun whereas Lan Kwai Fong is more upscale. Both feature several great bars, pubs, and restaurants. In the Lan Kwai Fong, you're more likely to see well dressed professional types hitting the scene after work. Wanchai is where all the strip clubs and sleaze is, but there's a lot more to it. There are several upscale bars, restaurants and clubs here as well. One of my favorites is Joe Bananas. If you ever go, you might want to avoid a disco called the Big Apple. Virginia had told me about it, but I had to see it for myself, so I ventured in one night. Sure enough, it was pretty sleazy. I was sitting at the bar drinking a beer and just watching the revelry, when a pretty girl on the dance floor caught my eye. She slinked over to me, came in close and...bit me on the neck. That's right, the girl bit me one the neck, then walked away with a come-and-get-it glance. I politely declined her generous offer for fear of needing a rabies shot afterwards. So avoid the Big Apple. You have been warned.
Of course, Hong Kong rates extremely high on one of my other litmus tests for travel destinations: F-O-O-D. I love any kind of Asian food. Chinese, Thai, Indonesian, Indian, doesn't matter. And you can get it all in Hong Kong. In fact, the Thai food there is better than I had in Thailand! One famous little place to try if you go is Mak's Noodle Shop, and you have to try the shrimp hargau. They make everything fresh right there. Culinary-wise, Hong Kong is at the top of my list of just about anywhere I've ever been. I really miss the smell of just walking around the streets, a combination of Asian food, incense, and what Virginia calls "stinky bean curd".
While Hong Kong can hold its own as one of the most expensive, you can still enjoy it without going broke. For one thing, stay in Kowloon, the hotels there are much cheaper. It's quick, easy and cheap to get anywhere you need to go, so you don't need to stay right in the middle of everything. I've stayed at these two places and was happy with both: Dorsett Seaview Hotel, Metropole Hotel. Most of the hotels in Kowloon are similar in price and facilities. And for food, good, cheap restaurants abound in Hong Kong. Like any major city, you will find restaurants in every single price range and in every single quality range.
For more pictures, including a map of Hong Kong,
check out the Hong Kong page of my website